No doubt, selling a home can feel like you're playing the lottery at times – you might think of yourself as a winner but you don't even know how much money you might have left on the table. This is a grave fear these days. On your own, it's very difficult to get an accurate value for your home.
The greatest evolution in real estate market over the last decade is, surprise surprise, the Internet. More than 90 percent of buyers begin their search on different sites all over the internet.
So, if you're done contemplating, and you want to sell your house fast, without the having it sit on the market for months on end, then this article is just for you. We will be evaluating 5 online tools which caters to give you the most accurate value for your home.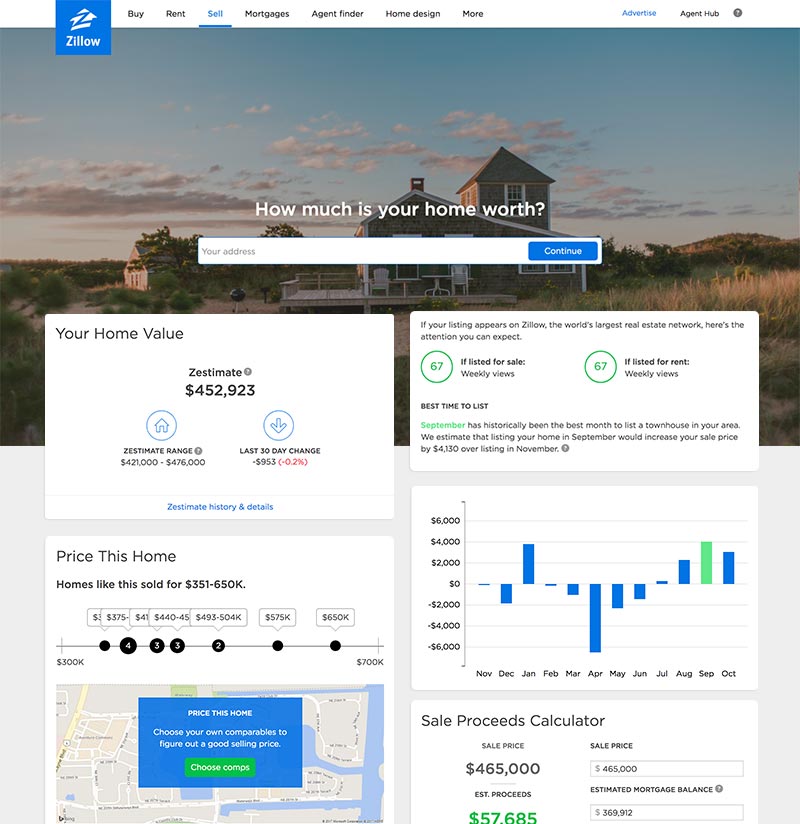 Zillow is renowned for their self-developed, "automated valuation model" — AVM. This model is tailored to present a current market value estimate of millions and even billions of homes all around. The platform is quite amazing; it's a robust online database which stores enormous amount of information from public sources, all organized in one place, polished by very sophisticated algorithms in order to predict a close estimated value of your home.
However, there is a little flaw in this framework: Some real estate specialists believe Zillow's predicted values are wildly inaccurate and inconsistent, but we can take that as a grain of salt, maybe?
Developed by Chase Bank in the US, this property value estimation tool is useful for both the seller and the buyer. This tool generates a free estimated market worth of your house or a property you are interested in purchasing.
This estimate is calculated by their proprietary home valuation method, using millions of home sales records in their database and the process is quite easy to use; Simply enter the address of your house or the property you are looking into and click "Get Value" to review the results.
On the flip side, Chase's Home Value Estimator is slow in updating their database. As a result, there are claims of outdated database and inaccurate pricing.
This online tool calculates an 'eppraisal' – or the estimated market value of your property. The estimate is generated based on recent sales records of 20 similar properties. In addition, an eppraisal report includes detailed property information, analysis of the surrounding area and comparable properties to make your work easy and understand what price to pitch to sell house.
Eppraisal has a more updated database and is more analytical in nature. However, there are claims that the site usually averages the amount of the 20 sold properties and sometimes, this tool may not be suitable when you are into selling your house using non-traditional methods like: for sale by owner. Should you decide to sell your home by owner, you listing it at the correct price is crucial to your success.
The Redfin Estimate is said to have the lowest error rate in the industry. Unlike other home-value estimators, it evaluates properties on the MLS to calculate your house's current market value, so that you get a more accurate online estimate instantly, it shows you the comparable properties in your area as well. When you are ready to sell your house, you can get in contact with the Redfin agents who will guide you through the process.
A small caution, though: Redfin has been accused of selling client information to real-estate agents. So users beware.
SmartZip Analytics merges data analytics and the real estate industry into one platform. Through predictive data analytics, agents can predict real estate demand trends and identify potential sellers. The service provided by Smartzip can work as a strategic management tool for companies when it comes to long-term planning & marketing. The system further goes into introducing smart CRM follow-up tools, ensuring real estate agents get the best possible deals albeit, SmartZip's platform can be considered 'tough', especially if you are not into business analytics.
We're a group of national full-time investors, so we buy houses throughout the United States on a regular basis, so we need to use free tools regularly so that we can give sellers an accurate offer the first time. So, if you asked us to choose which site is best for evaluating your home's value, we recommend Redfin, SmartZip, AssetColumn & Zillow, and the reason is simple – it is all about a comparative advantage and what yields better results despite their shortcomings. We also recommend that you use a blend of all 3 tools to get the best value of your house.